Reverso Classic

Duetto
34.2 x 21 mm - Pink Gold 750/1000 (18 carats) - Manual winding
Reverso Classic

Duetto
34.2 x 21 mm - Pink Gold 750/1000 (18 carats) - Manual winding
Precious, feminine, and seductive with its pink gold and diamond finish, the Reverso Classic Small Duetto watch offers its wearer two different faces. This authentic gem of a watch will delight all lovers of timeless feminine beauty.
Case

Pink Gold 750/1000 (18 carats)

Dimensions (L x W): 34.2 x 21 mm

Water resistance

Recto dial

Black transferred numerals, Silvered grey, Vertical satin-brushed and guilloché

Verso dial

Black, Opaline and sunburst guilloché, Frosted numerals

Recto hands

Verso hands

Gems

Strap

Pink Gold 750/1000 (18 carats)

Jaeger-LeCoultre Calibre 844

Recto Functions

Verso Functions

Hour - Minute identical on front/back

Movement

Manual winding, Components: 100, Vibrations per hour: 21600, Jewels: 18, Barrel: 1, Thickness: 3.45mm, Power reserve: 38 hours

Delivery

We are pleased to offer complimentary delivery for orders placed on our website or by phone with our Personal Advisors. Please allow a minimum of 1-4 days following your order confirmation and your delivery option selected at the checkout.

Returns

Your satisfaction is our best reward. Enjoy complimentary returns for exchange or refund. Please contact our customer service team to arrange return shipping. Refund is only possible if your purchase has been returned to the Jaeger‑LeCoultre e-Boutique. Engraved and personalised creations cannot be exchanged or returned.

Learn more

The Jaeger‑LeCoultre Care Program will provide you with personalized product information, advice, services and the ability to register for an extension of your International Limited Warranty up to 8 years.

Learn more
Color and material variants
Overview
Reverso Classic
Inspired by the Reversos created in the late 30's, the Reverso Classic is the traditional expression of the rectangular icon. Its swivelling concept turns the reverse side into a second expression of time either with a second time-zone (Duoface) or simply another style (Duetto).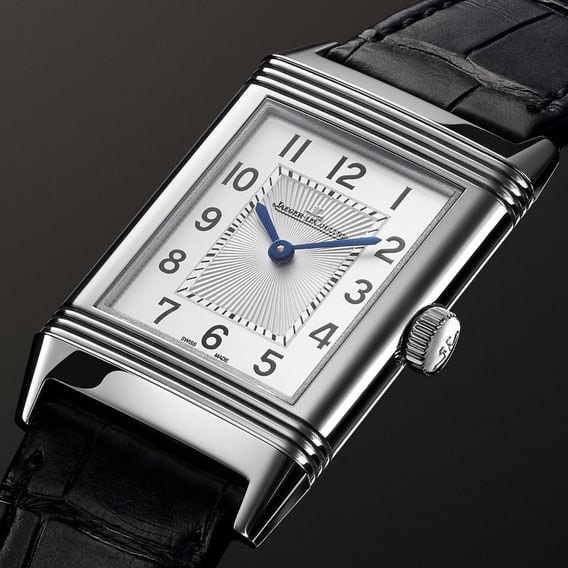 Timeless elegance
Featuring the original three-lined gadroons and 12 Arabic numerals, two-tone finished dials, and sword hands, the Reverso Classic offers a timeless design. Elevating its aesthetic codes, the inside of the cradle is finished with a circular graining, resembling the refined finishes that are also done on its calibre.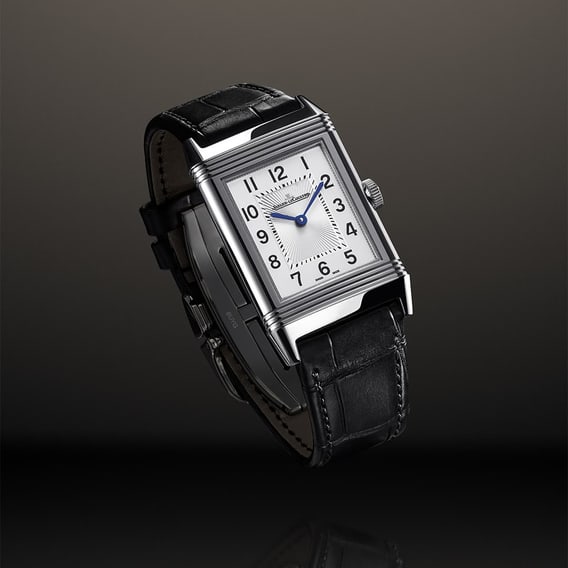 Heritage
Born out of a challenge
In 1930, businessman César de Trey was challenged to find a way to protect the glass of a watch for polo players during matches. de Trey's idea was inspired; a case that could be flipped over. He approached his friend Jacques-David LeCoultre to produce the watch and the pair engaged René-Alfred Chauvot to design it. And so the Reverso was born.
Made in our Manufacture
From its calibre to its case, every Jaeger‑LeCoultre watch is designed, manufactured and assembled under one roof, at our Manufacture in the Vallee de Joux. Our obsession with quality is renowned as every Jaeger‑LeCoultre watch undergoes strict "1,000 Hour Control" testing. This unique program provides internal certification tests that far exceed official chronometry tests.
It includes movement testing before and after casing and extends throughout assembly, according to conditions that match daily wear. A quality seal is engraved on the back of every watch once it meets our strict standards.
Reverso
From the same collection