Overview
The sophisticated watchmaking collection
The Master Ultra Thin watch collection epitomises Jaeger-LeCoultre's philosophy of uniting technical virtuosity with timeless aesthetics. It reimagines traditional complications with designs that feature rich, clean lines. The entire collection showcases our exceptional watchmaking savoir-faire.
Design
The ultimate dress watch
Every watch in the Master Ultra Thin collection is distinctively sophisticated and brings with it an understated, unique elegance. With a modern style and streamlined design, the Jaeger-LeCoultre Master Ultra Thin watch collection features perfect dress watches of rare distinction.
Streamlined aesthetics. Understated elegance.
The luxury watch collection is available with either a sunray or eggshell beige dial with every piece revelling in eye-catching attention to detail. Elongated hour markers give the watch a sublime symmetry while the satin-finished and polished Dauphine hands subtly glint in every light. The applied Jaeger-LeCoultre logo brings everything together in subtle harmony.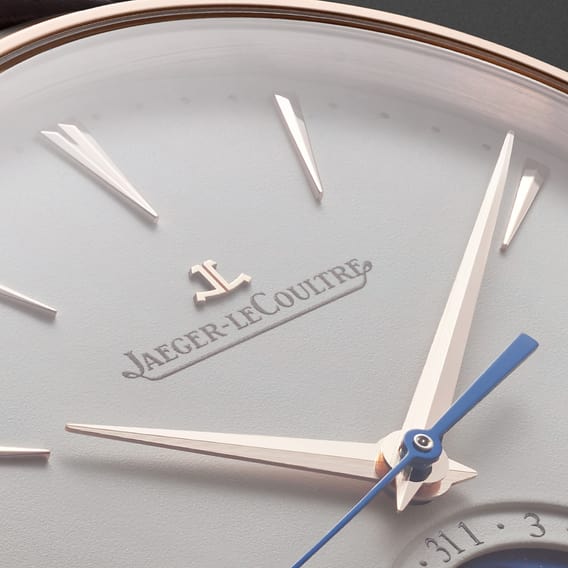 Clean lined elegance
The Master Ultra Thin watch inherits the design of its case from the first ultra-thin pocket watch of 1907 and is a true visual treat, signifying uncommon elegance. Aesthetically seductive, its thin case speaks to an appreciation for beauty while its long, subtly curved lugs create the purest, cleanest lines imaginable. A polished case and bezel are designed to glint in the light, underlining each piece's natural sophistication as the perfect dress watch.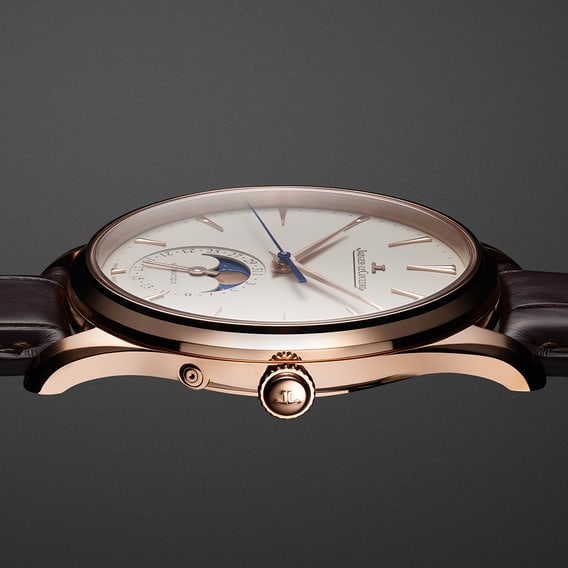 An understated complexity
The complications in the Master Ultra Thin Jaeger-LeCoultre collection include some of our most sophisticated. From the captivating phases of the Moon to our most exclusive Tourbillon Moon and Perpetual Calendar complications, they have been mastered by the Manufacture for over a century. This collection of luxury watches reimagines these traditional complications with an understated brilliance.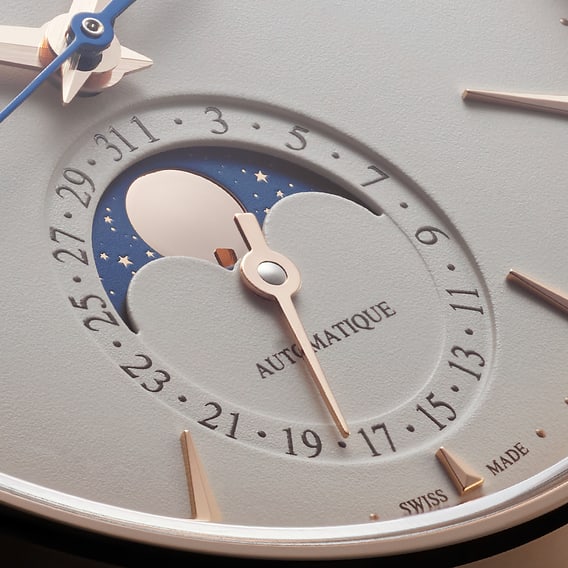 Heritage
A legacy of mastering thin calibres
Already renowned for its complicated pocket-watches, the new challenge of the twentieth century led Jaeger-LeCoultre to make one of the most prodigious collections of ultra thin calibres in watchmaking history.
Calibre
The finest mechanical expertise
Featuring a wide variety of complications, the calibres that power the Master Ultra Thin luxury watches are all developed, manufactured and assembled by Jaeger-LeCoultre master watchmakers under one roof in the Vallée de Joux. Perpetuating the spirit of innovation of La Grande Maison, they represent decades of craftsmanship expertise.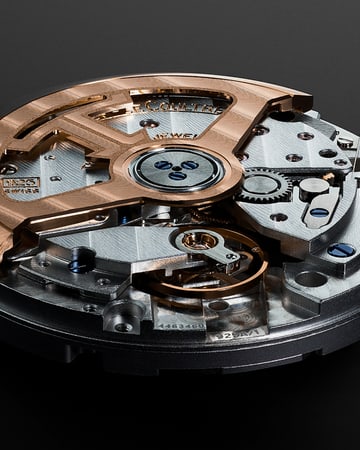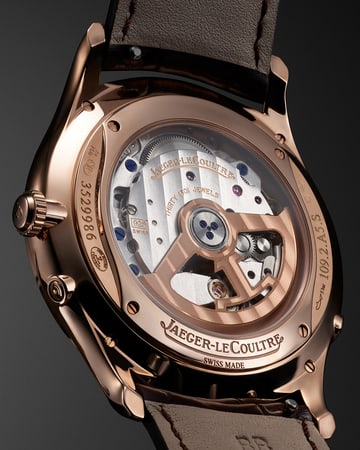 Made in our Manufacture
From its calibre to its case, every Jaeger‑LeCoultre luxury watch is designed, manufactured and assembled under one roof, at our Manufacture in the Vallee de Joux. Our obsession with quality is renowned as every Jaeger‑LeCoultre watch undergoes strict "1,000 Hour Control" testing. This unique program provides internal certification tests that far exceed official chronometry tests.
It includes movement testing before and after casing and extends throughout assembly, according to conditions that match daily wear. A quality seal is engraved on the back of every watch once it meets our strict standards.
Customization
Customize your watch
Warranty and Care
Protect your watch
Newsletter
Sign up for Jaeger-LeCoultre emails to be the first to see inspiring content, news and exclusive offers.