COLLABORATION
AN ORIGINAL ART DECO TYPEFACE
Jaeger-LeCoultre is proud to announce its latest collaboration with innovative lettering artist Alex Trochut. Inspired by the architectural identity of New York and the Maison's strong Art Deco heritage, Alex has crafted a bespoke signature alphabet for La Grande Maison: the 1931 Alphabet. His new typeface embodies the Maison's values of creativity, precision and expertise.
ARTWORK
1931 ALPHABET: A BOLDLY CONTEMPORARY ALPHABET
Alex Trochut turned to Art Deco for his inspiration on this collaboration, a visual signature that remains deeply imprinted on the landscape of his adopted home in New York. The style also inspired the identity of the original Jaeger-LeCoultre Reverso in the 1930s, helping make it one of the most iconic watches ever made.
This natural fit has resulted in a new typeface from Alex Trochut that conveys a sense of tremendous creative energy infused with an extraordinary spirit of modernity. Each letter a true work of art.
A SIGNATURE INFUSED WITH HERITAGE
Alex Trochut draws inspiration from his home in New York, the abstract nature of letters and from his grandfather, a renowned typographer in the 1940s, who sparked his love of typography.
Alex Trochut's work is redefining traditional ideas of what typography can be and his new Jaeger-LeCoultre typeface brings an elegantly sculptural, boldly contemporary quality to every letter. Each letter feels intricate, functional and richly decorative, with a visual depth that naturally conveys the sense of harmony in every part of a moving machine.
BIOGRAPHY
ALEX TROCHUT: A TRUE ORIGINAL
Alex Trochut began his career studying at Elisava Escola Superior de Disseny. After launching his own design studio in Barcelona, Alex relocated to New York where he has worked independently since 2012. His work is defined by an intense, fiercely original creativity that pushes the limits of language to produce a truly expressive, emotive visual lettering style.
He has also been honoured with prestigious awards by Type Directors Club, Creative Review, Cannes, Clio, D&AD and others. He currently lives and works in Brooklyn.
DISCOVER THE EXCLUSIVE CREATIONS
Learn more about Alex Trochut's signature typeface for La Grande Maison and discover the creative possibilities it offers as an engraving on the iconic Reverso case-back.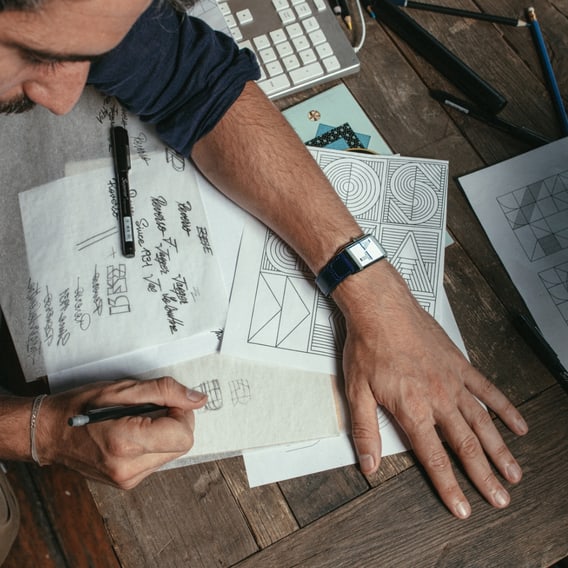 What's next
The story continues